I know I say this every year since moving back to a country where it snows during the winter, but this has been the longest, coldest, most terrible winter, ever.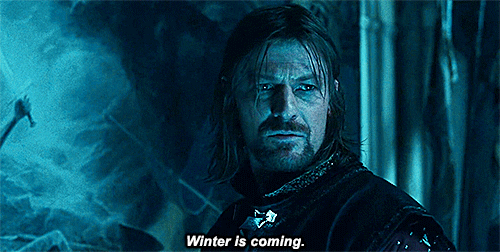 But seeing as I've decided to make this frozen tundra my permanent home even after enjoying the balmy winters of Perth, I've decided I just have to suck it up, create a winter survival plan and get through this season that lasts 6 months longer than it should.
If you need help getting through these terrible winters, I'm sharing some of my best winter survival tips today. I hope they help you make it through to the other side of one of Mother Nature's crueler jokes.
Denial: For as long as humanly possible, deny the fact that another winter has arrived. Wear those sandals and spring jackets long after the temperature has dipped below freezing. If you ignore it, maybe it isn't really there.

Get a winter appropriate wardrobe: Once winter has settled in, you do know deep down in your heart that it's here to stay for six to eleven months, so it's best to prepare for it. Stocking up on layers of long johns, singlets, long sleeve t-shirts, sweaters, parkas and wearable blankets is the way to go. At least you can feel warm on the outside, because your cold, frozen heart won't thaw til at least July.
Subscribe to Netflix: Sign up for one of those streaming TV services. There are a bunch cropping up in Canada, trying to compete with Netflix, each with a more ridiculous name than the last (Showmi? REALLY?). I've stuck with Netflix, but any service that allows you to binge watch works, because you won't be going outside for at least half a year.


Hibernate: Bears have the right idea: just skip the whole winter experience by sleeping through it. It'll be like it never, ever happened.
Eat all the comfort food: Comfort food is different for everyone, but nothing helps you ignore the harsh, cold winters like baked mac and cheese or tomato basil soup.


Drink: Nothing makes me forget the sixty feet of snow, slick sidewalks and cold wind that chaps my face and lips than a drink. Hot chocolate, tea, or my favourite… whiskey. Nothing makes me feel warmer on the inside than whiskey.




Cry: When winter's going into its fifth month and you just don't think you can take another twelve feet of snow or another day of -40 before the windchill, do what I do: cry. Just be sure to do that in the warmth of your home so your tears don't freeze to your face.




Think warm thoughts: Sunshine, beaches, summer, fire, David Tennant, Chloe Bennet, temperatures above zero. Eventually, those longer, warmer days will come back and soon we'll be able to complain about how damn hot it is again.
Only nine days until the official start of spring! How have you survived this winter? Or are you one of those people who love winter (you weirdo)?